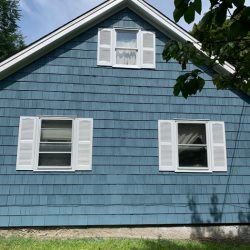 Projects like painting and home remodeling in Newburgh, Poughkeepsie, Chester, Middletown, and Orange County, NY are big undertakings that require a lot of know-how. Instead of getting in too deep on your own project or trying to coordinate multiple contractors to help you achieve your vision, give the seasoned professionals at Day One Custom Painting & Renovations a call.
Our handyman services stretch across all types of jobs, delivering results we guarantee you'll love.
Painting
A fresh coat of paint can go a long way towards restoring the beauty and appeal of your interior or exterior surfaces. We have experience painting homes, businesses, public facilities and more, spanning projects of all sizes and complexities. Our painting contractors serve homes throughout Newburgh, Orange County, Chester, Middletown, and Poughkeepsie, NY and take pride in their immaculate brushwork and attention to detail.
Bathroom Remodeling & Kitchen Remodeling
We remodel with a mind for beauty, luxury and quality, regardless of which room you're seeking to improve. We'll cover the scope of your work across your kitchen remodeling, bathroom remodeling, or basement remodeling project. Some of our focuses include flooding, countertops, fixtures, painting, drywalling and cabinet installation.
Porches & Decks
Pressure & Power Washing Services:
From cement slabs and decking to a wide variety of other surfaces, power washing services will remove years of accumulated buildup and other debris. Our goal is to restore your surfaces to a like-new condition so they look great and retain their integrity.
Home Improvement:
Our dedication to home remodeling spans all major facets of your home, inside and out. Let us construct porches and decks for your convenience, as well as perform essential electrical and plumbing upgrades. Our mission is to help you create a home you love to live in.
Flooring Installation:
New flooring installations can go a long way towards improving the appeal and atmosphere of a room. Let us introduce you to the beauty of hardwood or the resilience of ceramic tile and give you a superior flooring experience in any room of your home.
Contact Us
Our talented painting contractors and handyman services are ready to tackle just about any project you might have for us and we approach every job eager to please. Contact us today at 845-728-5477 for a free consultation on cabinet installations, power washing services, and more!